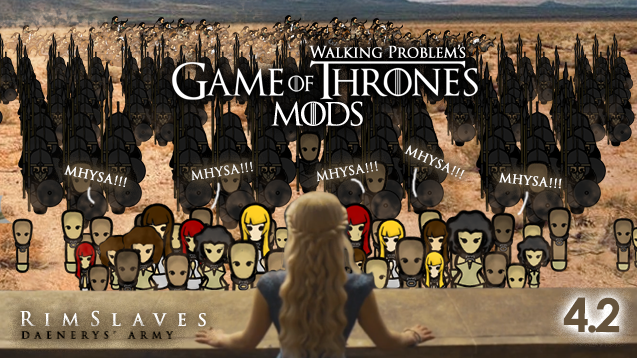 An update for the RimSlaves mod together with the launch of the Advanced Animal Frameworks.
With the new framework, new work abilities are added to the slaves, like constructing (yes its back), clearing snow, sowing plants (finally!), tending to wounded, etc… And as mentioned above, the mod will now require Advanced Animal Frameworks as a core mod.
Have fun!
—
NON-STEAM DOWNLOAD: http://walkingproblem.com/sdm_downloads/rimslaves-ver4-2/
STEAM DOWNLOAD: https://steamcommunity.com/sharedfiles/filedetails/?id=922660930
FORUM LINK: https://ludeon.com/forums/index.php?topic=32265.0
ADVANCED ANIMALS FRAMEWORKS Required: http://walkingproblem.com/2018/03/21/b18-advanced-animal-frameworks-1-0/
OFFICIAL WEBSITE: http://walkingproblem.com/
DEVELOPER'S DISCORD: https://discord.gg/W2Vb27T
FACEBOOK PAGE: http://fb.com/walkingproblem
TWITTER: https://twitter.com/KingProDios
YOUTUBE: https://www.youtube.com/channel/UCgUW0Ls2wbY8h79pV9xnMjw
TWITCH: https://www.twitch.tv/walkingproblem
FUND MY MODS @ PATREON: https://www.patreon.com/walkingproblem
BUY ME A MEAL/COFFEE: https://ko-fi.com/walkingproblem
—
VER 4.2 CHANGELOG:
– Added mod dependency on Advanced Animal Frameworks
– Sally's Pleasure now increases "Fun" stat
– Work Slaves can now Sow Plants, Operate Deep Drill, Construct Furnitures/Structures, Build Roofs, Remove Roofs, Remove Floors, Smooth Floors & Clear Snow.
– Maidens can now Tend To Human Injuries, Tend To Animal Injuries, Feed Human Patients, Feed Wounded Animals, Clear Snow, Milk Animals, Shear Animals & Sow Plants.
– Some of the work abilities will generate harmless error message on the error log, it doesn't affect the game. You can disable the auto open of the error log.