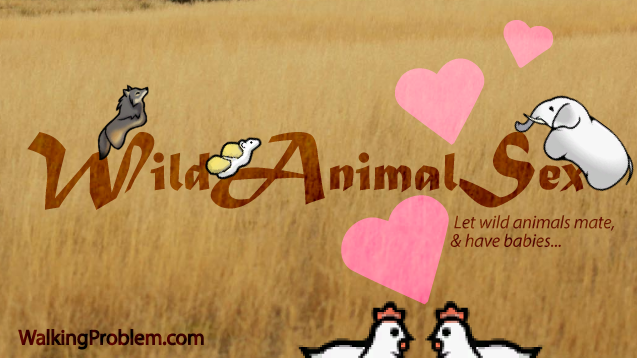 LET THERE BE SEX!!!
A mini-mod for those players who (like me), prefer the wild animals to behave normally – and actually mate in the wild.
And, from Version 1.4, Predators will spawn when there is an overpopulation of prey. Hunger rates are reset to default.
Have fun!
Version 1.4 Demo:

—
FORUM LINK: https://ludeon.com/forums/index.php?topic=37461.0
NON-STEAM DOWNLOAD: http://walkingproblem.com/sdm_downloads/wild-animal-sex-ver1-5/
STEAM DOWNLOAD: https://steamcommunity.com/sharedfiles/filedetails/?id=1224175982
OFFICIAL WEBSITE: http://walkingproblem.com/
DEVELOPER'S DISCORD: https://discord.gg/W2Vb27T
FACEBOOK PAGE: http://fb.com/walkingproblem
TWITTER: https://twitter.com/KingProDios
YOUTUBE: https://www.youtube.com/channel/UCgUW0Ls2wbY8h79pV9xnMjw
TWITCH: https://www.twitch.tv/walkingproblem
SUPPORT ME ON PATREON: https://www.patreon.com/walkingproblem
—
CHANGELOG 1.5:
– Slowed down predator spawn to once a day
– Disable spawning of "unnatural animals"
– Fixed spawning locations
– Doubled prey population limit
CHANGELOG 1.4:
– Now the mod detects prey population in relation to how much prey a biome can support
– If there is an overpopulation of prey, predators will be spawned periodically until the prey population drop below the overpopulation limit
– Hunger rates of all the predators are reset back to default
CHANGELOG 1.3:
– Increased predators spawn rates by 3 times.
CHANGELOG 1.2:
– Increased most predators hunger rates by at least twice
– This is to balance against the increased number of rodent preys from breeding
CHANGELOG 1.1:
– Enabled pets to mate with wild animals (and vice versa)
– As this update remove faction check, pets – wild animals – other faction's pets – caravan animals : may all have a big orgy.