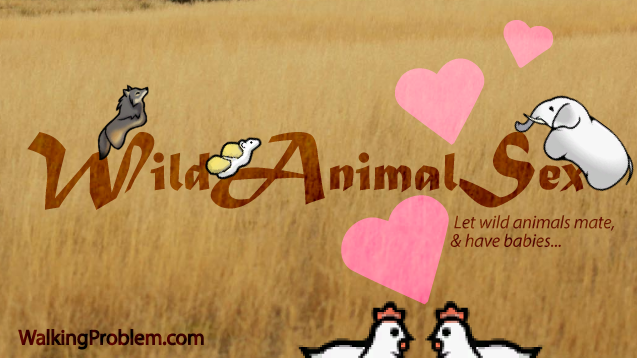 LET THERE BE SEX!!!
A mini-mod for those players who (like me), prefer the wild animals to behave normally – and actually mate in the wild.
Have fun!
If you do not want Boom Rats and Boomalopes: http://walkingproblem.com/2018/01/17/b18-no-boom-boom/
—
FORUM LINK: https://ludeon.com/forums/index.php?topic=37461.0
NON-STEAM DOWNLOAD: http://walkingproblem.com/sdm_downloads/wild-animal-sex-ver2-2/
STEAM DOWNLOAD: https://steamcommunity.com/sharedfiles/filedetails/?id=1224175982
—
OFFICIAL WEBSITE: http://walkingproblem.com/
DEVELOPER'S DISCORD: https://discord.gg/W2Vb27T
FACEBOOK PAGE: http://fb.com/walkingproblem
TWITTER: https://twitter.com/KingProDios
YOUTUBE: https://www.youtube.com/channel/UCgUW0Ls2wbY8h79pV9xnMjw
TWITCH: https://www.twitch.tv/walkingproblem
FUND MY MODS @ PATREON: https://www.patreon.com/walkingproblem
BUY ME A MEAL/COFFEE: https://ko-fi.com/walkingproblem
—
CHANGELOG 2.2:
– Changed Level 10 Prey Population Limit to "No Limit"
CHANGELOG 2.1:
– Removed "Biome Not Full" debug log.
CHANGELOG 2.0:
– Added Mod Setting option to adjust Prey Population Limit
CHANGELOG 1.7:
– Double prey population limit to previous level (sorry lagging guys, get a new computer)
– Added Prey Limit, Current Prey Population, Number of Prey and Number of Predator stats to the Overpopulation Alert description box
CHANGELOG 1.6:
– Reduced prey population limit by half.
– Disable deterioration for vanilla fertilized eggs.
CHANGELOG 1.5:
– Slowed down predator spawn to once a day
– Disable spawning of "unnatural animals"
– Fixed spawning locations
– Doubled prey population limit
CHANGELOG 1.4:
– Now the mod detects prey population in relation to how much prey a biome can support
– If there is an overpopulation of prey, predators will be spawned periodically until the prey population drop below the overpopulation limit
– Hunger rates of all the predators are reset back to default
CHANGELOG 1.3:
– Increased predators spawn rates by 3 times.
CHANGELOG 1.2:
– Increased most predators hunger rates by at least twice
– This is to balance against the increased number of rodent preys from breeding
CHANGELOG 1.1:
– Enabled pets to mate with wild animals (and vice versa)
– As this update remove faction check, pets – wild animals – other faction's pets – caravan animals : may all have a big orgy.