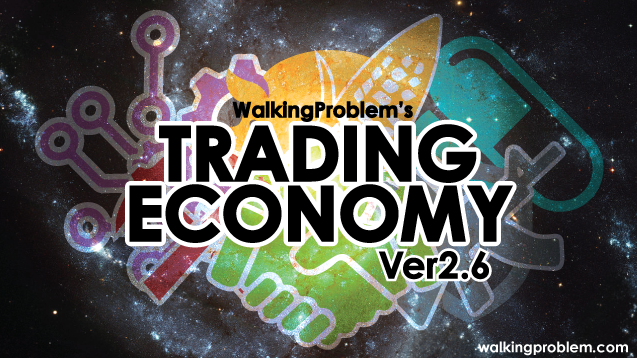 WALKBLEM GALACTIC CORPORATION RENOUNCES THE RIMWORLDS ACCORDS
Walkblem Galactic Corporation had announced their withdrawal from the RimWorlds Accprds that regulates and prevents the introduction of heavy weaponries into the frontier systems.
In a statement by the CEO of Walkblem Galactic Corporation, MJ Lim declares his disdain for all the hypocrisy of the GlitterWorlds establishments, where restrictions and shifting regulations had severely hurt the interest of the mega corporation. According to the spirit of the accord, corporations like Walkblem Corporations are forbidded from introducing advanced weaponry into the RimWorlds, to prevent war and violence. However, according the MJ Lim, he accused the GlitterWorlds of taking a blind eye on the fact that RimWorld is already full of wars and violence, not to mention that advanced weaponries had been introduced by multiple factions from the GlitterWorlds – while Walkblem Corporation is limited in its ability to defend their employees and properties.
Thus Walkblem Galactic Corporation had decided to bypass the regulations, and introduce military vehicles that Walkblem Corporations had used during the previous 2 wars.
CEO, MJ Lim reiterate the stand of Walkblem Corporations, as well as a thinly veiled threat against the GlitterWorlds governments, "We don't want to deal with politics, but don't fuck with us!"
In a separate press release, Walkblem Galactic announces that they will be militarising all Walkblem Corporations across the entire galaxy, to secure their facilities and businesses, as well as the complete activation of their military force to discourage the GlitterWorlds governments from doing something silly. They also announced the sale of Walkblem Vehicles via the Walkblem Military Corporations (walk in sale only) and that they will no longer use mercenaries, but instead deploy their standing military forces to all the stations and duties. Walkblem Galactic also warns against any pirates or factions that dares to attack their caravans, promising a swift and violent end to those who would dare.
Finally, CEO, MJ Lim demands you to pay your tributes to his Patreon account for more mods and updates: patreon.com/walkingproblem
—
Developer Note:
This is a huge huge update, that is launch alongside the new Advanced Animal Frameworks that will be used to power all future and current Walking Problem mods.
The most significant of the updates in this update, is the addition of vehicles that you can own. People had been dying to own the WHAC, and now we have finally made it happen. And not just one armored vehicle, but 5 different vehicles that can be used to great effect with Giddy Up mod. I also added a new uniform that helps to distinct officers/traders from the soldiers, and also replaced all the mercenaries to Walkblem soldiers once again, due to the change in the politics in the backstory.
The mod also now requires Jectools, because I had used one of its feature that resizes the weapons, for the vehicles.
Hope you guys have fun with the new vehicles!!
—
NON-STEAM DOWNLOAD: http://walkingproblem.com/sdm_downloads/trading-economy-2-6/
STEAM DOWNLOAD: https://steamcommunity.com/sharedfiles/filedetails/?id=1130945311
FORUM LINK: https://ludeon.com/forums/index.php?topic=35551.0
ADVANCED ANIMALS FRAMEWORKS Required: http://walkingproblem.com/2018/03/21/b18-advanced-animal-frameworks-1-0/
JECTOOLS Required: https://ludeon.com/forums/index.php?topic=32868.0
GIDDYUP! Recommended: https://ludeon.com/forums/index.php?topic=37323.0
OFFICIAL WEBSITE: http://walkingproblem.com/
DEVELOPER'S DISCORD: https://discord.gg/W2Vb27T
FACEBOOK PAGE: http://fb.com/walkingproblem
TWITTER: https://twitter.com/KingProDios
YOUTUBE: https://www.youtube.com/channel/UCgUW0Ls2wbY8h79pV9xnMjw
TWITCH: https://www.twitch.tv/walkingproblem
FUND MY MODS @ PATREON: https://www.patreon.com/walkingproblem
BUY ME A MEAL/COFFEE: https://ko-fi.com/walkingproblem
—
CHANGELOG VER 2.6
– Removed Hoverbikes from escorting caravans, due to traders selling them away, causing unresolvable bugs
– Disable Walkblem Vehicles from spawning in manhunter events
VER 2.5 CHANGELOG:
– Added 5 autonomous vehicles: Walkblem Hover Bike, Walkblem Armored Car, Walkblem Artillery, Walkblem Tank, Walkblem IFV
– Added a new weapon: Walkblem Charged Blaster
– Walkblem Trader/Executive/Officer will now have their own uniform
– Added Giddy-Up support: with GiddyUp mod, Walkblem soldiers will all be mounted on Hover Bikes or Armored Cars
– Walkblem Heavy Armored Caravan weapon is charged from Walkblem Charge AutoCannon to Walkblem Charge MG
– WHAC's armor stats and health is adjusted
– Walkblem Corporations will now accept Gold as payment/currency.
– Set all product patching to always success to remove patching failure prompt
– The mod now requires Jectools and Advanced Animal Frameworks to work
—