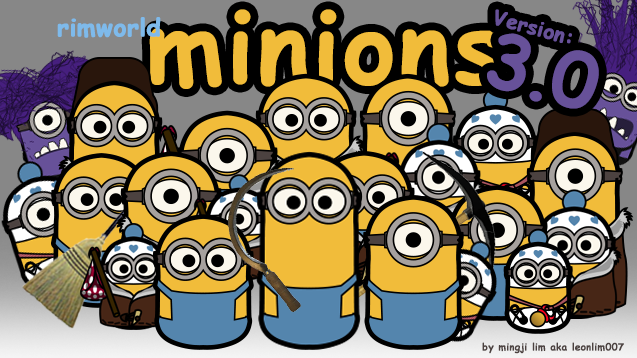 I am proud to announce the launch of Minions for RimWorld Version 3.0 just 11 days after launching Version 2.0! =D
This time round, its a huge update, with a lot more goodies and improvement to what is already a pretty popular mod (273 downloads for Ver2.1 as of this blog post).
LET THERE BE VARIETIES!
After repeated requests to find way to add variety to the variants of Minions, I am proud to announce that all the different variants of Minions are now included in the mod!
WHAT I NEED TO KNOW?
Male Minions have 2 eyes, Females are 1 eyed. Baby and Toddlers now wear a different outfit, and they becomes the short minion when they are child, the "medium" size minion when they are teenager, and the tall minion when they become an adult!
CARAVANS!
Minions can now help to carry stuff as part of the caravan and they would change into their brown outfit (the outfit they were in their home in the artic, before they found the blue jeans overalls)
IMPROVE CODES!
I have redone most of the work codes – thus the Minions are now more effective and efficient when come to doing their tasks! And they can also help to rearm traps now!
NUZZLE GALORE!
The Minions will also assume an important role in keeping any "Great Villains" sane, with their constant nuzzling! Just like in the movies, they are cute, adorable and extremely caring. They spare no effort in keeping your colonist in good mood, regardless of how dire the situation is!
HOPE YOU GUYS ENJOY THE MINIONS!
DOWNLOAD HERE: http://dinorim.mingjilim.com/sdm_downloads/rimworld-minions-ver3-0/
Version 3 Changelog:
– added texture for all gender and agegroup
– added caravan abilities with special texture
– redone the codes for planting cutting, harvesting, and mining
– added ability to rearm traps
– added nuzzling ability
– added new texture for evil minions (both genders)